PatientPop helps physicians and health care providers attract patients through healthcare sites and social media profiles.
The solution provides an appointment-scheduling module that allows patients to request appointments through provider websites or social media accounts. Appointments are added to provider schedules through integrations with various scheduling solutions, along with patient histories. It also captures how which search engines and websites patients use to find provider websites.
PatientPop sends automated reminders to patients before appointments, and patients can also schedule new appointments in case they are unable to attend. Additionally, patients are sent a satisfaction survey after an appointment. The solution helps users analyze the survey responses, view patient feedback and manage a practice's online reputation.
Support is provided via email and phone. Pricing is per user per month.
Tech Support Availability N/A



PP was "on it" from the git go. They have made our practice run smoother because of integrating so many things and working with our system. Our New Patient growth is through the roof and the staff has been easy to work with. These folks know what they are doing. Our Georgia Chiropractic office loves them!!


Patientpop is truly wonderful. Super organized from the beginning, very responsive when you need them. I love my website and I've grown my online presence significantly. Not only have I gotten a ton of new patients but also 100+ google reviews in my google business account. Could not recommend them enough!


This may seem like an odd review, but I do feel like PatientPop is professional and has ethics. Unfortunately, their services were not a good fit for me as my practice goals would've been difficult for any web/SEO company to easily meet. They thought they could do it, but it didn't work out and the reason I am still giving them a five star review is that although I had a one-year contract with them they were willing to terminate the agreement early, because I did not see that my goals were being met. Most companies would have told me that a contract is a contract and I would not be able to terminate. Kudos to PatientPop!


They address your concerns very rapidly. I am happy with their input on how to put the practice out there via the social media. I am satisfied with partnering my efforts with PatientPop and their staff.


Patient Pop has been working with me transitioning from another website manager. They have been very responsive as various issues requiring attention have been identified. I anticipate that once the site is fully up and running to my satisfaction that their management and search engine optimization will enhance the effectiveness of my website.
Read All Read All 554 Reviews Reviews
Free Resource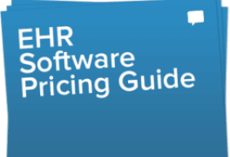 Medical, EMR & EHR software Pricing Guide
Don't let price confusion keep you from selecting the best software!