Practice EHR, a medical practice management software, was developed to accommodate the needs of small to mid-size businesses. The platform is customizable to internal medicine practices, chiropractors, physical therapists, family medicine, podiatrists, psychiatrists and various other specialties.
Core features of Practice EHR include electronic medical records, medical billing, patient scheduling and medical billing services. These applications are available as part of one integrated suite. Electronic medical records are offered as a stand-alone feature for practices that need a simplified solution. Users can also have access to e-prescribing, lab integration, procedure workflows, narrative reports, tablet PC support, patient portals and ONC-ATCB certification. Eligibility inquiry, claim scrubbing, and workers' compensation claims are offered for practices that choose to utilize the medical billing application.
Practice EHR is an entirely cloud-based solution. It is accessible via mobile devices and remote desktops.
Certifications
Drummond
EPCS
HIT
ONC
SureScripts
About Practice EHR
Practice Director's EHR provides you with a convenient form to efficiently record pertinent facts, findings, and observations about an individual's health history including their past and present illnesses, examinations, tests, treatments and outcomes. Drop-down menus and additional fields help you quickly complete your data entry.
Tech Support Availability N/A
Practice EHR User Reviews



Very responsive and helpful. Good, solid EHR, easy to use interface. We do visiting (house call) work, and it's difficult to find a chart that handles that workflow. This one does well.


Let me just say I love this product. I am an acupuncturist with a heavy insurance-based caseload. Because Acupuncture/Chinese Medicine occupies just a small niche amid the larger health care world there are very few programs that support billing for it. In fact after in-depth researching, I found pretty much all roads led back to one platform that seems to have cornered the market but their cost was astronomical, making it completely prohibitive. While cold searching the web for any software that looked even remotely compatible, I stumbled on Practice EHR. After calling them, I found the sales team really cared about my practice's unique issues and were very patient and reflective in terms of trying to figure out how to set up what I would need. Based solely on their willingness to help I decided then and there I was going to go with their product and I have never regretted it. Since the first day I signed up with Practice EHR their support team has been accessible, knowledgeable and highly responsive to the unique challenges of setting up a program for a healthy practice based solely on acupuncture. On top of that the cost is very reasonable, especially when compared with the few programs I found that even support my modality. The web-based platform is easy to use, intuitive, as efficient as any I've seen and can be used anywhere at any time. Between the platform and the support combined with the cost effectiveness, I find this product to be one of the best bargains I


A great EMR, Customer Service is awesome and prompt to deal with any situations. From sales on down, working with them has been fantastic. I would have no reservations about recommending Practice EHR to anyone looking to start a practice or switch from their current EMR system. Most importantly, I have never had to wait more than 30 seconds on the phone when calling customer service.


Practice EHR is very simple, straight forward and easy to navigate and use! The pages are very user-friendly and intuitive. Cloud-based, so installation or infrastructure issues. Many of their user training tutorial videos are not up yet. They say more of these are coming shortly. When these are available, ramp-up time will be even quicker.
Read All Read All 4 Reviews Reviews
Free Resource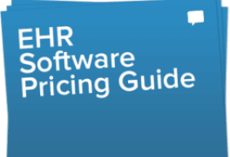 Medical, EMR & EHR software Pricing Guide
Don't let price confusion keep you from selecting the best software!