Office Ally's Practice Mate is a cloud-based medical practice management solution that caters to small and midsize healthcare organizations. It can be customized to fit the needs of multiple specialties and helps users in digitizing the activities necessary to manage a practice.
This solution is HIPAA-compliant and can be combined with Office Ally's EHR solution to fulfill Meaningful Use Stage 1 and 2 requirements.
Users can create appointments, manage a calendar and color-code time slots using the appointment scheduling module. Patients can also request appointments via Office Ally's patient portal, Patient Ally. Healthcare professionals can log on to approve or deny appointment requests, and view forms that patients have completed before their scheduled appointment.
Practice Mate also includes a reporting module that allows users to search by name, type of insurance, tax ID and other identifying information. Reports generated by the system can also be downloaded by users and exported into Microsoft Excel.
Tech Support Availability N/A
Practice Mate User Reviews

Read All Read All Reviews Reviews
Free Resource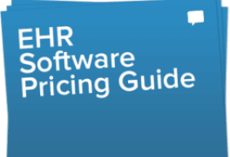 Medical, EMR & EHR software Pricing Guide
Don't let price confusion keep you from selecting the best software!