What is Practice Perfect EMR?
Practice perfect EMR is an on-premise electronic medical record (EMR) solution designed for physical therapists, speech-language therapists, occupational therapists, chiropractors and other rehabilitation professionals. Primary features include client profile management, billing, payments, accounts, documentation, scheduling, operational analysis and task management.
Practice Perfect EMR includes a client appointment booking and registration module. It also provides faxing, appointment reminder calls and home exercise functionalities. The client profile feature includes client contact, demographic, referral and insurance information. The billing feature allows users to record charges, record payments and accounts receivables. It provides drag-and-drop scheduler to manage staff, space, equipment and waiting lists. Users can create daily notes, evaluate progress and import documents to client records.
Customer support is offered via email and over the phone. Other help options include video tutorial and blog.
Tech Support Availability N/A
Practice Perfect EMR User Reviews



Practice Perfect has been working well for our business. Their support continues to get better and quicker with time which we appreciate. There is room for improvement with the program but it is getting very regular updates for no additional charge. Thanks Practice Perfect.


They lock you out of your data. I phoned a clinic to get an older receipt and they said Practice perfect had locked them out. This is not what they state on their website so they are unethical. Medical clinics should avoid these guys.


We switched to Jane Software which is much better. I have been having trouble getting them to stop charging my credit card after cancelling. I don't think they will be in business much longer. Buyer beware.




Read All Read All 5 Reviews Reviews
Free Resource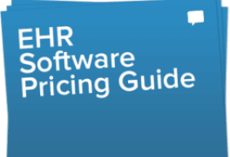 Medical, EMR & EHR software Pricing Guide
Don't let price confusion keep you from selecting the best software!