Practice Pro is a fully integrated, web-based EMR and Practice Management solution for outpatient physical therapy, pediatric therapy, occupational therapy, speech language pathology, ABA, and chiropractic. The suite of applications offered includes scheduling, documentation, billing, reports, referral management, and more. The platform also comes with built-in Business Intelligence tools and a customizable KPI dashboard. Practice billing services are also available as an add-on to therapy practices that decide to use Practice Pro. With examination profiles exclusively created for PT, Pediatric, OT, SLP, ABA, and Chiropractic; a rich, extensible clinical library of customizable flowsheet templates; flexible, multi-discipline appointment scheduling; and over 200 reports, KPIs and dashboards, therapy practices are free to focus on driving patient and financial outcomes.
Tech Support Availability N/A
Practice Pro User Reviews



Such a fantastic approach to teaching pitching. My daughter started her first class not knowing which foot to start with and came out as a starting pitcher for her travel team. Abby teaches not just pitching but the mindset of a pitcher, preparation, how to make practice fun, and all while in a super fun class environment. I cannot thank Abby enough for everything she has done and continues to do for my daughter.


My daughter has been working with Abby and the coaches at Practice Pro for over 5 years, and during that time, I have seen significant improvements in her technique, speed, and accuracy. My daughter has always been a strong pitcher, but she needed guidance to become a good pitcher. Practice Pro has provided her with the precise instruction that she needs to achieve her pitching goals. I have seen real, tangible results from my daughter's workouts with Abby – increased confidence, improved performance, and a true love for the game. I wholeheartedly recommend Practice Pro to any player who wants to be a better pitcher, and to any parent who wants to give their child the best possible foundation for a long pitching career.


Abby and crew are excellent instructors of pitching. The classes are on point and well organized. The instruction is very relaxed and highly encouraging. Abby does a great job of explaining and giving visual/ physical cues to the girls. She implements tools to explain, clarify and assist the girls to understand each skill/drill. Besides the physical she covers the mental side of the game. The girls engage freely. The personalities of each girl are different and she does a great job of modeling instruction for each girl. My daughter has improved by leaps and bounds. I owe it all to Abby and team for making my girl feel comfortable, confident and successful. Thanks Abby.


When my daughter started with Abby she had never thrown a pitch. Now, a year and a half later, she throws hard, with good form, and even somewhat accurately! But even more important, she has developed a love for pitching and a work ethic to go out and practice every day. We highly recommend Abby's classes!


My daughter's pitching skills have improved so much since working with Abby. The pitching classes have excellent instruction and Abby makes them fun. Abby is a very engaging teacher and a positive role model for the girls. Many thanks to her and her team of assistants.
Read All Read All 7 Reviews Reviews
Free Resource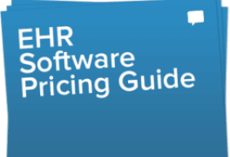 Medical, EMR & EHR software Pricing Guide
Don't let price confusion keep you from selecting the best software!