PracticeStudio by MicroFour offers an on-premise and cloud-based suite of EHR, practice management and billing applications that can be customized for multiple specialties including cardiology, chiropractic, dermatology, family practice, urgent care and internal medicine practices. Key features include scheduling, customized forms, e-prescribing, billing, insurance verification and processing, reporting and a revenue management cycle. Appointment scheduler allows users to register new patients on an abbreviated patient registration form and send out reminders via email and text messaging.
PracticeStudio is HIPAA-compliant and includes ICD-10 billing codes. The solution provides an online backup to protect, verify and store data and media files. It provides a certification dashboard that gives practices a view of their progress.
PracticeStudio provides a patient portal that allows clinic staff to interact with patients and share medical records and lab results. The solution sends an email notification to the patients when a new document is uploaded to their account. Support is provided via live chat.
Tech Support Availability N/A
PracticeStudio User Reviews

Read All Read All Reviews Reviews
Free Resource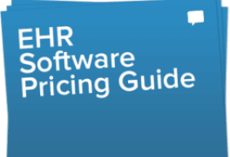 Medical, EMR & EHR software Pricing Guide
Don't let price confusion keep you from selecting the best software!