What is PrognoCIS by Bizmatics?
PrognoCIS EHR and PrognoCIS Telemedicine have earned a reputation for fast, flexible individual provider workflow. The software package offers a full suite of highly desirable features and functions. PrognoCIS provides a cloud-based solution will all US Government / CMS standards and compliance. PrognoCIS delivers a platform of stable and mature modules and features. EHR, Practice Management, Telemedicine, eRx to include approved electronic Controlled Substance. Revenue Cycle Management complements PrognoCIS for Medical Clinics looking for additional billing expertise.PrognoCIS EHR delivers a customizable and tailor-made EHR workflow with rich and specialty-specific content for clinics and hospitals.Telemedicine by PrognoCIS is leading the charge for virtual medical encounters. Telemedicine is a vital component of any medical software package. This feature allows for doctor / patient continuity of care and keeps delivering a trusted care relationship. Easily document encounters while maintaining eye contact through this device friendly application. User friendly to both patient and caregiver alike with a get started today turnkey button.There is a dedicated patient portal plug for your clinic website and allows doctors to communicate with their patients securely, share lab results, set appointments, request prescription refills, and more.
Tech Support Availability N/A
PrognoCIS by Bizmatics User Reviews



The EHR is user-friendly and allows you to chart with accuracy and efficiency. The portal is available 24 hours/day and technical support is provided throughout the day. The customer support is outstanding. They will often return your call within the hour.


Read All Read All 2 Reviews Reviews
Free Resource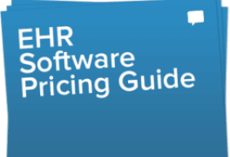 Medical, EMR & EHR software Pricing Guide
Don't let price confusion keep you from selecting the best software!