What is RelayClinical EHR?
RelayClinical by RelayHealth is a cloud-based electronic health record (EHR) solution that caters to solo doctors and medical practices of all sizes. Features include e-prescribing, patient visits' documentation, chronic condition management and more.
RelayClinical is Meaningful Use Stage 1- and 2-certified and helps medical practices to manage results, reports and discharge summaries. Users can also order tests, treatments, referrals and share records with other providers and patients.
RelayClinical includes health information exchange functionality between clinics, health systems and government entities that helps medical practices keep all records current and prevent the loss of health information that can lead to repeated tests. Additionally, RelayClinical EHR's patient portal provides patients with access to their health records, including lab results and reports. It also allows them to submit requests for appointments and prescription refills and send messages to staff members.
Support is offered via phone and email.
Specialities
General Practice
General Practices
About RelayClinical EHR
RelayHealth offers RelayClinical™ EHR, a complete certified ambulatory EHR application which facilitates effective and efficient care collaboration. For eligible providers, this solution delivers the tools to demonstrate meaningful use. For hospitals, it provides the tools to accomplish clinical integration goals and fill gaps within their Meaningful Use strategies.
Tech Support Availability N/A
RelayClinical EHR User Reviews

Read All Read All Reviews Reviews
Free Resource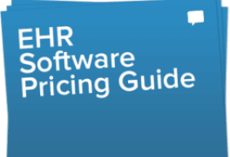 Medical, EMR & EHR software Pricing Guide
Don't let price confusion keep you from selecting the best software!