RXNT's integrated suite of EHR, Practice Management, and Medical Billing software optimizes clinical outcomes and revenue management and includes free setup, training, and ongoing support. RXNT's affordable pricing is predictable, with no hidden fees. Cloud-based iOS and Android mobile apps allow providers to charge capture, schedule practice resources, and check-in patients from anywhere. Our dedicated U.S. team delivers a collaborative approach to solving business challenges for practices and specialties of all sizes.
RXNT's EHR improves patient care and streamlines clinical management. With single sign-on, access patient health and prescription history at the point-of-care, schedule patients across multiple locations, and request and review lab or imaging orders. Plus, attach and organize documents within patient charts for clinical care plans and follow-ups. "Smart" forms and short keys enhance customization and eliminate redundancy.
Share real-time data with patients and other clinicians for better care coordination and next-step support. Patients benefit from the engagement portal, check-in features, electronic prescribing, and referrals. RXNT's E-Prescribing is Surescripts-certified and meets federal and state EPCS mandates. HIPAA compliant, supports MACRA and MIPS, and is an ONC-certified HIT solution.
RXNT's EHR and Electronic Prescribing (eRx) software can be combined with our PM and Billing software for an integrated Full Suite system.
Specialities
General Practice
General Practices
Tech Support Availability N/A

Read All Read All Reviews Reviews
Free Resource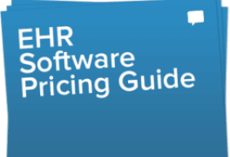 Medical, EMR & EHR software Pricing Guide
Don't let price confusion keep you from selecting the best software!