Solutionreach is a cloud-based dental practice management system designed for small, midsize and large offices and specialties. Primary features include appointment scheduling, patient access, reminders, patient education and practice marketing.
Other features include preventative and follow-up reminders, newsletters, online reputation management, patient satisfaction surveys and reviews. SolutionReach can send customized reminders using text, email or over the phone. Users can design surveys using templates and questions and distribute them at the end of each patient visit or when immediate feedback is required.
With PatientReach mobile, patients can send messages and images to providers through a HIPAA-compliant platform, request appointments and make payments. Practices can customize their mobile page by adding backgrounds, office photos and links to social media.
Support is provided via email and online case submission. Other help options include knowledge base, forums, webinars, eBooks and videos.
Specialities
General Practice
General Practices
Tech Support Availability N/A
Solutionreach User Reviews



Solutionreach has helped our business grow so much - It's easy to communicate with our patients via text and we've been getting more and more google reviews! They're also very helpful and friendly if you have any questions. Very thankful for Solutionreach!


Our front desk has saved countless hours by integrating Solution Reach. Our two favorite features: the automatic patient recall, we're no longer making tons and tons of phone calls every month; and the chat feature, we can send eyewear notifications to our patients without having to call.


I think that Solution Reach is a great way to communicate with our patients. It helps when it comes to patients that do not have time to answer our calls due to their own busy schedule. And it's beneficial to us in that we can get back to them in a timely fashion when we are busy.


We been using them for years, always have issues on billing. We sold our practice and owner/dr stayed on. Still can't get it changed over. Would not recommend for an optometrist office. Your billing has no idea, we had a credit for miss billing that was sent for a refund with David Allen and he did it on his end, now trying to change name on account is harder than winning lottery.


Our company is new to Solutionreach. We had a horrible experience with another reminder company that promised us similar things but never delivered. Solutionreach has been a breath of fresh air in comparison. We have finished the setup and on-board training and as much as I appreciated a thorough training process it was a bit slow for my taste. The support has been great and the result was almost immediate with reducing no shows dramatically.
Read All Read All 376 Reviews Reviews
Free Resource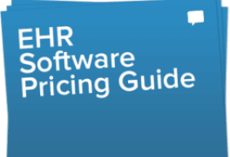 Medical, EMR & EHR software Pricing Guide
Don't let price confusion keep you from selecting the best software!