StrataPT offers StrataEMR, a cloud-based electronic medical records (EMR) solution built especially for outpatient physical therapy and occupational therapy practices. Key features include documentation, patient scheduling and practice management.
StrataEMR has various documentations features including clinical and outcome measure libraries, picture archiving and communication system (PACS), customizable physician and insurance letter templates, Medicare compliance alerts, document storage and e-faxing.
StrataEMR's patient scheduling feature is integrated with the documentation, billing and benefit verification services. It offers email, text and phone appointment reminders, patient waiting lists and integrated billing alerts. Other features of StrataEMR include marketing tools, authorization management, Medicare cap management, reporting, progress reports and plan of care tracking.
StrataPT also offers billing services for practices looking to outsource their billing.
Specialities
General Practice
General Practices
Tech Support Availability N/A



StrataPT has literally saved our practice. Our dedicated account manager Ashley D. is amazing. If we ever have any questions or concerns regarding claims submitted, Ashley and her team response immediately. As an independent local business owner, we are extremely blessed to have such a highly dedicated team. We would highly recommend StrataPT to any physical therapy practice owner. If we never made the switch away from WebPT, I honestly believe we would be out of business. Thank you StrataPT!!!! Jake Wildberger, Co-Owner of Truckee Physical Therapy


We have used StrataPT for about 3 years now, and we love it! Our go-to person, Ashley Dexter, is always helpful and quick to respond to our every question. The site is easy to navigate and updates to make it more efficient are constantly added. We would strongly recommend StrataPT to other clinics. Thanks StrataPT for all you do to help better serve our patients.


Let me first begin by saying that the StrataPT team, and specifically Ashley Dexter, is always there for any questions or concerns that we may have. We recently expanded the office to include both PT and OT and Strata has been an integral part in helping with this transition. They are constantly making improvements to the EMR system and help to make our daily experience with them as seamless as it can be. When I call the office with any questions, I rarely have to wait more than 2 hours to receive a call back. Customer service is really a priority for them! The EMR system itself is very easy to navigate and extremely user friendly. The system is well organized and clean and helps the daily flow of our office to remain organized as well. I would definitely recommend StrataPT!


StrataPT is a wonderful EMR billing service. They have always provided us with so much help whenever we have questions. Their effort doesn't go unnoticed and is greatly appreciated. Ashley is always on top of things and wonderful at her job!! We highly recommend StrataPT.


I can honestly say that there is no way I could have started my new business without this amazing team! Highly recommend using StrataPT if you are wanting to start a new business with less hassle and worry! They are great!
Read All Read All 53 Reviews Reviews
Free Resource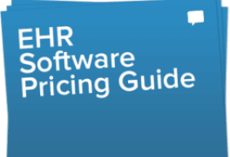 Medical, EMR & EHR software Pricing Guide
Don't let price confusion keep you from selecting the best software!