What is TherapyRehab Plus?
TherapyRehab Plus is a complete Practice Management & EMR platform built specifically for the Therapy & Rehab industry with specific support for PT, OT, SLP, and all rehab sub-specialties. With a full suite of software tools for providers, administrators, billers, TherapyRehab Plus is a complete business software platform for any therapy practice- regardless of size. Designed to be intuitive and simple, TherapyRehab Plus can streamline all aspects of a practice, simplify billing processes and give practice administrators the tools, resources, and reports needed to manage complex and growing therapy practices with the goal of helping to increase revenue and improve patient care.
TherapyRehab Plus is a single platform solution that is designed to simplify workflows and processes and reduce the complexity of managing a modern Therapy clinic or practice. Suitable for any size clinic or practice from single providers to large multi-location groups. Designed to easily support any therapy & rehab practice as well as complex multi-specialty groups, TherapyRehab Plus can easily scale-up to support growth and help manage the added complexities of practices looking to grow in size and patient volume.
TherapyRehab is ONC-ATCB certified and HIPPA compliant with tools and functionality to improve patient engagement, reduce costs and improve revenue.
Specialities
Physical Medicine and Rehabilitation
About TherapyRehab Plus
Occupational, Speech, & Physical Therapy EMR Software
Tech Support Availability N/A
TherapyRehab Plus User Reviews

Read All Read All Reviews Reviews
Free Resource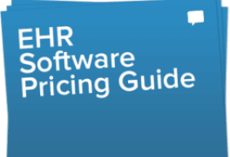 Medical, EMR & EHR software Pricing Guide
Don't let price confusion keep you from selecting the best software!