WebChart is a cloud-based, electronic health record (EHR) solution for or medical practices of all sizes. Key features include a patient portal, appointment management, electronic prescribing and others.
Drummond Group's ONC-ACB certification program certifies that WebChart EHR meets the meaningful use criteria either for hospital technology or eligible provider. Users can choose templates by specialty/role or customize the layout to their preferences. The system supports documentation by point and click, notes or dictation.
WebChart integrates with practice management and billing systems; it also offers real-time interfaces with both labs and pharmacies. Practices pursuing meaningful use can track compliance with measures via an automatic meaningful use tracker.
The system can be accessed from remote locations via an internet-enabled device, including PCs, Macs, iPads, iPhones and other smartphones. Pricing is subscription-based depending on the number of clinicians plus a one-time implementation fee. Support is offered via phone and email.
About WebChart
Web-based longitudinal patient record to meet the specific workflow requirements and documentation preferences of each practice and each individual clinician
Tech Support Availability Monday-Friday from 8am-5pm (EST)

Read All Read All Reviews Reviews
Free Resource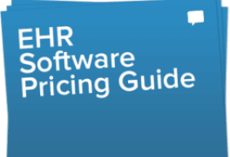 Medical, EMR & EHR software Pricing Guide
Don't let price confusion keep you from selecting the best software!