Wecounsel is a cloud-based, HIPAA-compliant video conferencing solution designed for telemedicine practices of all sizes. It offers live chat, patient scheduling and check-in, a clinician dashboard and video calling. Android and iOS apps are available for tablets and smartphones.
Wecounsel features practice management, which allows users to manage appointment scheduling and medical billing. Users can also take notes using customizable note templates. Patient interaction tools let users schedule calls with patients through multiple channels such as video, live chat and email. Providers and practitioners can also share documents such as lab results and forms.
Website and social-media integrations help users promote their practices and manage Google rankings. The product also provides an open API, which allows users to integrate Wecounsel with other platforms and transfer data such as SSO authentication, video sessions and appointment scheduling.
Pricing is per user per month. Support is offered through an online help desk.
About Wecounsel
engagement solutions so modern behavioral health practices can interact effectively with their clients, online.
Tech Support Availability N/A
Connection Speeds computer with a built-in camera and an adequate internet connection



Full disclosure, I work here. I still love it here.
Read All Read All 1 Reviews Reviews
Free Resource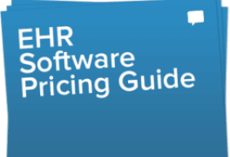 Medical, EMR & EHR software Pricing Guide
Don't let price confusion keep you from selecting the best software!