WritePad is a suite of applications designed to increase efficiency and improve patient care in practices. The solution includes a full EMR, patient scheduling, and picture archiving capabilities, and is available as an on-premise or cloud-based solution. The software was developed to support providers in many different specialties, including anesthesiology, physical therapy, pain management, and chiropractic, among others.
WritePad gives users the ability to generate visit notes and track patients' records from tablet, PC, or laptop. The application has hundreds of customizable templates that helps in report generation.
WritePad is a fully scalable solution, making it an option for practices that want a system to grow with their business. The application can be expanded with program modules, adding features that are not available in the basic edition. One of these modules is called Virtual Physician's Assistant (VPA), which streamlines traditional intake practices and reduces paperwork. Users have access to custom content modules that can save time and streamline the documentation of patient visits.
WritePad is HIPAA compliant and offers advanced security checks with password authentication, as well as the ability to integrate with fingerprint biometric technology.
Certifications
Complete EHR Ambulatory Holds
Drummond
About WritePad
Chiropractic / Rehab & Pain Management Documentation Software
Tech Support Availability N/A
Connection Speeds https://docs.wixstatic.com/ugd/50126f_368472353c8e4af0aa0affa3e25654d8.pdf

Read All Read All Reviews Reviews
Free Resource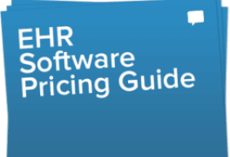 Medical, EMR & EHR software Pricing Guide
Don't let price confusion keep you from selecting the best software!