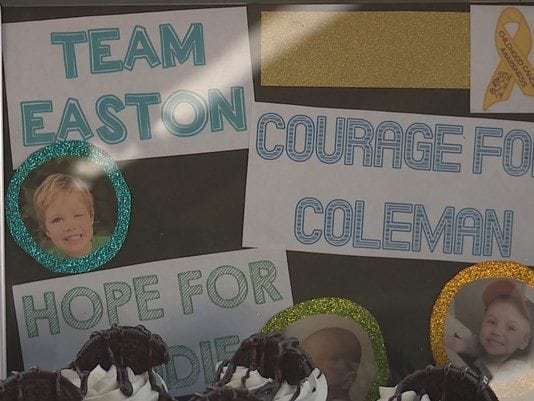 Coleman, Addie and Easton were all diagnosed with cancer in the last year and on Saturday, their parents hosted an event to raise money for pediatric cancer research and celebrate their brave little fighters.
Four-year-old Addie Abernathey finishes months of intensive treatment on Monday. "His is orbital rabdomyosarcoma, which is a very uncommon cancer we're told," Easton's mom, Paige Brown, said, "and it was very interesting when we found out about Addie who was diagnosed just a few months after Easton."
And then there's Coleman, or Cole, Ross, who has also been fighting for his life as well, diagnosed with high-risk neuroblastoma in December of last year.
All three of these families fighting for their children's lives together. "They're really encouraging to me and I feel like we'll be friends forever because we just have this special connection that not everyone understands. "These kids are incredible," Allyson Ross added.
These families don't feel like their battle is over or their children are in the clear once treatment is completed; they say they'll worry about whether or not the cancer will recur.
But they are hopeful, and sending the message to other families to get connected with people going through similar situations because that's what's helped them get through it all.
Learn more about Addie's journey on this Facebook page Hope for Addie.