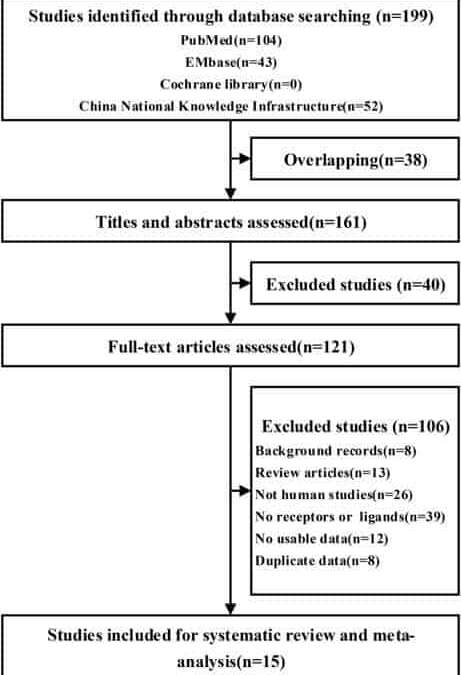 We searched databases for studies that evaluated the expression of Notch receptors and/or ligands in human HCC tissue.
HCC is the fifth most common malignancy and second leading cause of cancer-related death worldwide; its 5-year survival rate is 15–17%3.
Therefore, early screening, early diagnosis, and initial treatment are appropriate ways to determine the prognosis of patients with liver cancer, which is important.
Numerous related factors and molecular pathways are involved in the pathogenesis and progression of HCC.
The Notch signaling pathway is composed of Notch receptors (Notch 1–4), Notch ligands (Delta 1,3,4; Jagged 1–2) and intracellular effector molecules and is a highly conserved intercellular signal transduction pathway.
The Notch signaling pathway is pleiotropic, and activation of this pathway not only plays an important role in the development and differentiation of normal cells but also plays an important role in the evolution of the disease, especially in corresponding tumor formation8,9.
In recent years, studies on the role of the Notch signaling pathway in carcinogenesis and suppression of primary HCC have made progress.
Some studies suggest that expression of Notch receptors or ligands in HCC can inhibit the proliferation of HCC cells, while the opposite view is that high expression of some Notch receptors or ligands, such as Notch 1 or Jagged1, can promote the differentiation of liver tumor and tumor vascular proliferation.
To provide new guidelines for early detection or early diagnosis, establish an individualized treatment regimen and evaluate of prognosis of HCC, this systematic review and meta-analysis observed the expression levels of Notch l–4 and Jagged l in HCC tissue, pericarcinomatous tissue and normal control tissue.
Full size image The association between the Notch receptor/ligand in HCC and non-HCC tissues.