ABEL Medical Software, Inc.
What is ABEL Medical Software, Inc.?
About ABEL Medical Software, Inc.
ABELMed EHR - EMR / PM v11 is an ONC-ATCB 2011/2012 and Surescripts certified, fully integrated electronic health record and practice management software that includes ePrescribing. Feature rich, yet easy to learn and use, ABELMed delivers comprehensive clinical and practice management functionality that includes the capability to create encounters using voice dictation, typing, mouse clicks or Tablet PC handwriting recognition, prescription writing with drug interaction alerts, document storage, scheduling, billing, inter-office communications and much more.
ABELMed EHR - EMR / PM v11 contains qualified electronic health record functionality as defined in the American Recovery and Reinvestment Act 2009. ABELMed offers money-back guarantee that its software will meet all the required criteria for Meaningful Use to qualify for the incentive payments available under the Medicare and Medicaid EHR Incentive Programs.
With ABELMed EHR - EMR / PM v11, practices can:
Minimize claim rejection rates (less than 2%) using ABELMed's comprehensive, fully integrated billing capabilities
Receive assistance to ensure that you gain incentives associated with Meaningful Use and to maximize your bottom line by providing key practice performance indicators. The incentive could more than cover the cost of your entire ABEL system including hardware, software, training and support services with the funding amount.
Provide self-service features for patients to make payments and update personal information (including past medical history and history of present illness) over the web or at your office
Eliminate the drudgery associated with clinical trials management and patient recruitment
ABEL Medical Software Inc's patient portal, ABELMed Portal, is a secure Website where your patients can log in to view or update portions of their record or interact with your office. You retain complete control of the information that a patient can view and modify. ABELMed Portal will save your practice time and money by allowing patients to:
Request, confirm or reschedule appointments
Enter or update demographic information and medical history
View parts of their Personal Health Record (PHR)
Communicate with your practice securely and in confidence through our proprietary messaging system
ABEL Medical Software, Inc. User Reviews
Free Resource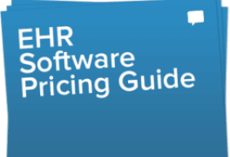 Medical, EMR & EHR software Pricing Guide
Don't let price confusion keep you from selecting the best software!