BestNotes is an HIPAA compliant customer relationship management (CRM) and electronic health record (EHR) database system designed for the behavioral health and substance abuse industry. The software merges CRM and EHR tools into a highly effective and functional product that improves client interactions.
BestNotes is offered as a fully integrated suite that includes scheduling, patient portal, practice management, documentation, medication administration, outcome tracking, e prescribing, lab tracking, and reporting features. Documentation is designed with the behavioral health specialist in mind by helping eliminate double data entry, enabling point and click documentation and allowing users to quickly create group notes and treatment plans.
BestNotes CRM tracks sales activity, follow-ups, referrals, and ongoing customer interactions. The software covers the full spectrum of client interactions from sales to alumni relations. The patient calendar automatically includes notes and billing codes for each appointment.
BestNotes requires no upfront fees and offers users a month-to-month contract and training/support for a fee.
Tech Support Availability N/A



The best people at the BestNotes. Software company though, don't just walk in.


As a mental health provider in the community, I understand the importance of a quality EHR. BestNotes has always provided the highest quality customer service. Reliability and feature set of the software is unmatched in my experience. Thank you!


Great software helped out my practice with organization. Highly recommend it!!!!!


Highly recommemd; affordable and user friendly. Great staff!


Read All Read All 8 Reviews Reviews
Free Resource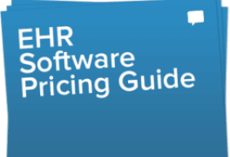 Medical, EMR & EHR software Pricing Guide
Don't let price confusion keep you from selecting the best software!