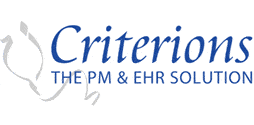 What is Criterions Medical Suite?
About Criterions Medical Suite
Criterions provides a single product solution for Medical Practice Management and Electronic Health Records (EHR). The Criterions Medical Suite (TCMS) is designed with input from clients, ensuring that we not only meet the current standards and regulations, but exceed expectations by recognizing client needs.
TCMS includes a complete Practice Management software system, designed to be user-friendly and efficient. Our innovative software system will help you resolve all your practice management tasks, from medical billing to claims remediation. We proudly present TCMS as an entirely HIPAA-ready system that meets all your practice's needs.
Additionally, the EHR system of TCMS can help your practice:
Enhance Your Quality of Care
Become More Efficient
Built to Your Specifications
Take Back Your Office
Electronically Prescribe
Criterions Medical Suite User Reviews