Doctorsoft is a cloud-based electronic health record (EHR) software solution that caters to ophthalmologists, optometrists and professionals in other medical practices. Key features include electronic medical records, medical billing, patient scheduling and picture archiving.
Doctorsoft helps medical services to collect patient medical information including, medical history, medical exam, diagnostic test, prescriptions, procedures and in the preparation of billing information.
With Doctorsoft, users can use their own device' talk-to-text programs to dictate their notes. The solution features a single page view, so users can see patients' entire records at once. This solution also includes a drawing tool. Users can draw with either their finger or a stylus directly into the system.
Doctorsoft is priced either per user per month or offers a perpetual license for a one-time fee. Support is offered via email, phone and online FAQs.
About Doctorsoft EHR
Doctorsoft is the industry's easiest specialty-specific EHR system to purchase, implement, learn and use; requiring minimal training to get up to speed and to train new and existing staff. We know this because of system was developed by an ophthalmologist using it in clinical practice with his/her staff. Our users have gotten up to speed in about 1-3 months without decreasing the number of patients seen per day.
Tech Support Availability N/A
Doctorsoft EHR User Reviews



Read All Read All 1 Reviews Reviews
Free Resource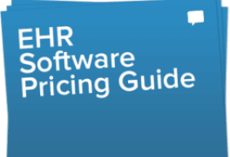 Medical, EMR & EHR software Pricing Guide
Don't let price confusion keep you from selecting the best software!