About ECLIPSE
ECLIPSE is an ONC certified Complete EHR licensed to over 37,000 users across more than 7,000 Chiropractic, Physical Therapy, and Medical facilities throughout the United States on their LAN's & in the cloud. Practices range from single practitioner to multidisciplinary, multi-site practices with dozens of providers and 200+ networked computers that bill millions in revenue monthly.
Free Resource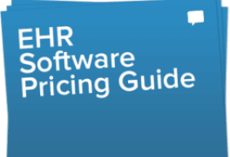 Medical, EMR & EHR software Pricing Guide
Don't let price confusion keep you from selecting the best software!