What is Modernizing Medicine EMA?
Tech Support Availability N/A
Modernizing Medicine EMA User Reviews



They seem to take amazing care of their employees they really care about them


bring your walking shoes you're going to need them




We went live with Modernizing Medicine three years ago this April. We were able to easily meet Meaningful Use during our FIRST YEAR and have successfully reported ever since. We are a busy Dermatology Practice with 6 providers, multiple locations, and seeing up to 200 patients a day. Modernizing Medicine is easy to navigate and takes the grunt/guess work out of coding! When we've run into a problem or have suggested a change that would make the system easier for us to use, Modernizing Medicine has always promptly responded. The Tech team is knowledgeable and efficient. We have no complaints about this company and would refer them to any medical practice without reservation!


PLASTIC SURGERY: I was one of the early Plastic Surgery beta users. Although I generally like the specialty specific content, and many users might like the highly detailed specific device setting features, there are minor issues. For the most part, 90% of my notes can be generated very well. When I bought into EMA they had no practice management software. They only offered a "bridge" software to Care Cloud PM. Now they offer a PM. Lake County Plastic Surgery
Read All Read All 19 Reviews Reviews
Free Resource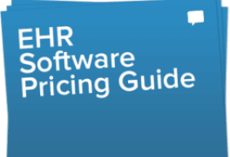 Medical, EMR & EHR software Pricing Guide
Don't let price confusion keep you from selecting the best software!