About gloStream
gloEMR from gloStream is ONC-ATCB compliant and has been certified by the Certification Commission for Health Information Technology (CCHIT®), an ONC-ATCB, in accordance with the applicable certification criteria for eligible providers adopted by the Secretary of Health and Human Services. gloEMR was certified on Sept 30, 2010 and was one of the first EMRs to be certified.
gloEMR and gloPM, gloEMR's sister practice management application, are the only electronic medical record software and practice management solutions on the market embedded with Microsoft Office, which means they are robust, familiar, and easy to use. gloStream is also the only 100% Partner driven EMR software company.
Free Resource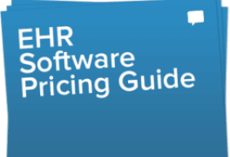 Medical, EMR & EHR software Pricing Guide
Don't let price confusion keep you from selecting the best software!