About MicroMD EMR
MicroMD electronic medical record (EMR) system helps practices and health centers eliminate paper, improve clinical productivity and enhance care. MicroMD EMR delivers exceptional flexibility—whatever your specialty. Integrated with your practice management system, MicroMD EMR improves accuracy and protects reimbursement.
The MicroMD EMR software system was specifically created to fully accommodate all aspects of clinical workflow, including storage, retrieval and modification of digital patient records plus prescription writing, clinical annotation, ordering laboratory and imaging tests and viewing test results.
In terms of electronic medical records software and interoperability for patient record sharing between physicians, hospitals and pharmacies, MicroMD offers a very mature EMR system.
MicroMD's affordable CCHIT certified EMR system is at the forefront of this new era of patient records automation, helping physicians to increase revenues and improve efficiency and patient care while cutting costs.
MicroMD EMR offers:
Meaningful Use Features - Helping your practice earn reimbursement dollars
Henry Schein Secure Chart Patient Portal - Flexible, two-way patient-to-practice communications help staff save time
Clinical Documentation - Choose the method that works for you
E&M Coding - Claim full reimbursement with confidence
Health Maintenance, Alerts and Reminders - Promote healthy outcomes
e-Prescribing - Improve medication safety, enhance workflow and save time
Clinical Dashboard - View your patient's most pertinent data at once
Image Management and Annotation - Save pictures, clinical images and anatomical diagrams
Desktop Management - Manage your workload on your own terms
Specialty Content - Customize your EMR with ease
Physician Order Tracking -Have confidence in patient compliance
Device Connectivity - See clinical data from medical devices in real time
Integration and Interoperability - Explore a range of features and benefits
Free Resource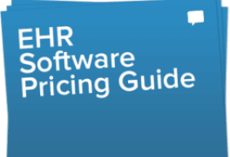 Medical, EMR & EHR software Pricing Guide
Don't let price confusion keep you from selecting the best software!