Medical Communications Systems
What is Medical Communications Systems?
About Medical Communications Systems
iPatientCare EHR is a full-feature EHR, which serves everybody in the office, physicians, physician assistants, nurse professionals / practitioners, medical assistants, managed care, front-office staff, billing staff, and even patients! Designed using Microsoft .net framework, iPatientCare EHR scales up all the way from solo physicians practices to offices having more than 200 physicians, multiple locations, and serving multiple specialties. iPatientCare EHR integrates seamlessly with third-party practice management systems, lab / test information systems, retail pharmacies for the prescription and refills, state immunization registries, various medical devices, speech recognition solutions, DOQ-IT program of CMS for pay-for-performance, and many more… including instant patient history created by patients themselves from home using the Web based Portal or using kiosks at doctor's office while waiting for their turn…
Medical Communications Systems User Reviews
Free Resource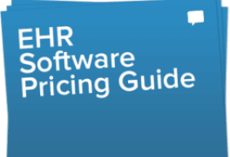 Medical, EMR & EHR software Pricing Guide
Don't let price confusion keep you from selecting the best software!