NextStep is a cloud-based electronic health records (EHR) system designed for behavioral health and substance abuse staff at inpatient, outpatient and residential care facilities. The ONC certified solution enables clinicians to track patient progress and assess how each client, group, or facility as a whole is doing with customized report cards. The software helps you easily measure and meet specific objectives for value-based care.
The fully integrated suite of products adapts to any workflow, rather than having you conform to a predefined one, to help increase your productivity and efficiencies. The solution includes patient scheduling, charting, assessments, automated form routing, reminders, customized reporting and dashboards, integrated telehealth, billing management, eligibility checking, census management, medication management and an extensive library of forms. NextStep features a mobile solution and digital pen integration for offline data storage, for those times you're in the field or without an internet connection.
NextStep's smart billing engine translates clinical services into proper billing codes, reducing claims rejections and denials for improved cash flow. The complete RCM and billing service also offers a la carte options to help you manage items that may be too labor intensive to do in-house.
Operating Systems
Android
iOS
Linux
MacOS
Web
Windows
About NextStep
Nextech's seamless, end-to-end solution suite empowers specialty physicians to work smarter, not harder. Prevent disjointed data with the largest fully integrated healthcare IT solution.
Tech Support Availability N/A

Read All Read All Reviews Reviews
Free Resource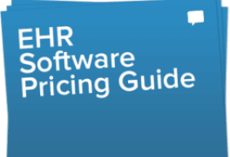 Medical, EMR & EHR software Pricing Guide
Don't let price confusion keep you from selecting the best software!