patientNOW is a hybrid integrated Practice Management (PM) and Electronic Medical Records (EMR) solution for aesthetic medical practices like plastic surgery, medical spas and cosmetic dermatology. The solution can be deployed either in cloud or on-premise. It is also compatible with various windows enabled tablet computers.
patientNOW helps practices automate workflows, manage interactions with patients that helps them to retain their existing patients and capture new ones.
The EMR solution features e-prescribing, lab integration, ONC-ATCB certification, narrative reports and procedure workflows. In addition, patientNOW offers a suite of PM applications including medical billing, patient scheduling, accounting, and a picture archiving system. The patient portal allows practitioners the ability to directly interface with patients that helps in delivering automated follow-up messages and appointment reminders.
patientNOW offers services on a subscription-based pricing model support via phone, email and through online FAQs.
Specialities
Dermatology
General Surgery
OB-Gyn
Plastic Surgery
Tech Support Availability N/A



Patient Now is life changing. I have been working with Erica for the past year and I could not be more thankful for her dedicated support and direction. Together we have created a system that has not only doubled my business but has improved my quality of life. As a busy doctor, practice owner, and super mom I look for anything that saves me time and creates organization. Patient Now has been my BEST investment since starting my practice in 2014. Patient Now has everything you need to grow a practice all in one place. Thank you today and everyday for making my practice safer for my patients, better organized for my staff, and efficient for me. I can't wait to see what new developments you create. Sincerely, Dr. Tonya Boudreaux -- Gravity Medical Spa, San Juan Capistrano, CA


From the beginning, the Patient Now team was great. Throughout training and transition to going "live" with the software, Kristen has been the biggest asset. She continues to be an ongoing resource to our office. She is responsive and helpful. She is willing to spend the time needed with each of our staff with any questions we have.


Esai did an amazing job answering all of my questions and helping me setup my clover device. Also in fixing a few bugs in our Patientnow system. He was upbeat, friendly and super helpful!!! I will use their service anytime need help!


I wanted to express my extreme gratitude to - not just Patient Now - but specifically Esai in Tech Support. I was transferred to him for Tech Support regarding our Clover Device. He not only was extremely helpful and professional - but he went to great lengths to help get me the answers I needed. He was very knowledgeable and made an immensely stressful day Way Less stressful. Thank you so much Esai! You're the best!


I manage 3 medical spas and we have been using Patient Now for several years. It is an amazing EMR platform that has made our doctors, nurses and clinicians lives so much easier. It is easy to use and their customer service is great. They respond to my questions and facilitate resolutions quickly!
Read All Read All 44 Reviews Reviews
Free Resource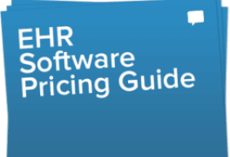 Medical, EMR & EHR software Pricing Guide
Don't let price confusion keep you from selecting the best software!