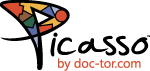 Picasso by Doc-tor.com, LLC
What is Picasso by Doc-tor.com, LLC?
About Picasso by Doc-tor.com, LLC
If your clinic is equipped with Doc-tor.coms comprehensive web-based Electronic Medical Records "PICASSO" system, you will have our cutting-edge Electronic Medical Records software at your fingertips, with practice-friendly tools that free up more time for your physicians to care for patients. Every staff member on your clinic team can benefit from our Electronic Medical Records system, allowing the entire office to work together more efficiently. PICASSO allows every member of the clinic team to provide better care and better patient service, from the moment a patient walks into the clinic. Doc-tor.coms Electronic Medical Records takes care of detailed tasks crucial to effective clinic operation.
Picasso by Doc-tor.com, LLC User Reviews