What is SmartMD Corporation?
About SmartMD Corporation
You handle patients, well handle the paperwork. SMARTMD is a leading provider of clinical productivity applications and business services. We help practices streamline operations, reduce expenses, and comply to industry regulations, while enabling physicians to dedicate more time to providing quality care to their patients. Our unique blend of products and services paves a pain free path for physicians to move from costly manual and paper based processes to a more efficient electronic medical records environment. Over nearly a decade, SMARTMD has built a reputation for delivering high quality, reliable, and fast transcription and billing services to institutions of all sizes and specialties throughout the United States. SMARTMD has adopted rigorous processes typical in the manufacture of high-tech electronics, to ensure consistent delivery of services to our customers. SMARTMD is now leading the industry with the most affordable and user-friendly Practice Management (PMS) and Electronic Medical Records (EMR) solutions in the market. The SMARTMD tablet for physicians includes an ingenious Notes tool, designed to leverage the benefits of a tablet and stylus. Easy to learn, the tablet reduces the time providers spend documenting encounters. For front office and administrative staff, SMARTMD automates numerous tasks including scheduling, eligibility verification, chart management, and claims processing.
SmartMD Corporation User Reviews
Free Resource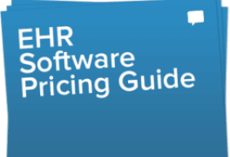 Medical, EMR & EHR software Pricing Guide
Don't let price confusion keep you from selecting the best software!