What is Stimulus Medical, LLC?
Specialities
Allergy
Bariatric Surgery
Cardiology
Dermatology
Endocrinology
ENT
Family Med
Gastroenterology
General Surgery
Geriatrics
HEMATOLOGY/ONCOLOGY
Infectious Disease
Internal Medicine
Internal Medicine Sub-Specialty
Multi-Specialty
Neurology
Neurosurgery
OB-Gyn
Occupational Medicine
Ophthalmology
Optometry
Orthopedics
Pediatrics
Physical Therapy
Podiatry
Psychiatry
Psychology
Radiology
Rheumatology
Sleep Medicine
Urgent Care
Urology
About Stimulus Medical, LLC
Waiting Room Solutions offers a variety of powerful functionality, specifically built for specialties. The system includes specialty templates and ICD/CPT codes for every discipline. Charge capture, billing and reporting is directly integrated within the EMR workflow
Stimulus Medical, LLC User Reviews

Read All Read All Reviews Reviews
Free Resource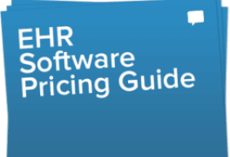 Medical, EMR & EHR software Pricing Guide
Don't let price confusion keep you from selecting the best software!