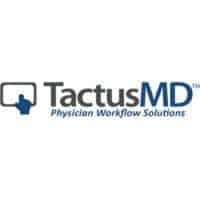 What is TactusMD EHR by TactusMD?
About TactusMD EHR by TactusMD
Electronic Health Records (EHR) organization TactusMD, Inc. is one of only a few firms that offers its doctor-clients a streamlined, workflow-based solution for creating and retrieving patient data. To allow flexibility of use, the EHRs need to be highly accessible to authorized individuals. Yet, patient privacy acts (HIPPA) and doctors' own beliefs that patient confidentiality is paramount—means TactusMD's cloud solution offering must be extraordinarily stable and secure. When TactusMD sought a new hosting environment, it found the perfect combination of accessibility, security and cost effectiveness with DynaSis.
TactusMD EHR by TactusMD User Reviews