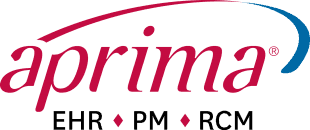 What is Aprima EHR and EMR?
About Aprima EHR and EMR
Aprima electronic health record (EHR) and electronic medical record (EMR) software was designed to help doctors gain more control over their time and their practice, and improve efficiency. They continuously innovate to meet changing needs, compliance regulations and emerging technology for greater efficiency, so physicians can get access to the latest solutions.
Aprima EHR software can create dictation and ensure seamless transcription with a solution that doesn't require a change in the way physicians practice medicine. Aprima supports a variety of transcription and dictation import and export methods to streamline the EHR creation process. This EHR and EMR software also has an automated alert system to help ensure patients comply with medical advice and best practices. Physicians can also get better outcomes and increase practice revenue with an easy-to-use solution that alerts them to diagnosis and payer information as well as overdue tests or procedures.
Physicians can use Aprima's handwriting feature on a tablet PC to write new prescriptions and refills quickly and electronically, which is called e-Prescribing. Physicians can also download a patient's medication history from the pharmacy to learn if any prescriptions they're considering may conflict with any the patient already takes.
Aprima EHR and EMR User Reviews