Bottle-Feeding: Weaning a Toddler
Topic Overview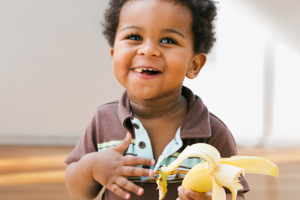 Many of the tips for weaning babies from bottle-feeding can be used for toddlers (ages 1 to 2). Here are some suggestions unique to toddlers:
Do not allow a toddler to carry the bottle around. This can help prevent injuries if your toddler falls and also can help keep the bottle from being a comfort item for your toddler.
Help transfer the toddler's attachment from the bottle to another comfort object. When your toddler asks for the bottle outside of meal or snack time, encourage the use of a comfort object, such as a stuffed animal, blanket, or doll. For example, tie an empty bottle securely around the neck of a favorite stuffed animal or other comfort object, then remove the bottle after your toddler thinks of the new object as the source of comfort (after a few days or weeks). Make sure the bottle is tied securely and that the string has no slack or loose ends that could become wrapped around your child's neck and cause choking.
Make changes in the toddler's routine, especially the rituals that are connected to bottle-feeding. For example, after a fall, comfort your toddler with hugs and attention rather than the bottle.
Keep the toddler busy with new activities. This can be in the home or in a museum, at a zoo, or at playgrounds.
Make a cup part of weaning. Make using a cup part of your toddler's solid-meal routine. Then gradually eliminate his or her bottle-feedings.
Take the bottle away, and make it an event. Make a big announcement that "today is the day you'll eat like big brother [or dad, or cousin]." Celebrate by having your toddler throw out the old nipples and bottles and by taking him or her to the store to pick out a personal cup. The bottle may be a comfort object, so replace it with hugs and attention or another comfort object, such as a stuffed animal.
Be ready for feeding time. When feeding time approaches, offer your toddler a snack. If this is filling, it may take the child's mind off the feeding.
Current as of: November 7, 2018
This information does not replace the advice of a doctor. Healthwise, Incorporated, disclaims any warranty or liability for your use of this information. Your use of this information means that you agree to the Terms of Use. Learn how we develop our content.