Cataracts: Questions About Surgery
Topic Overview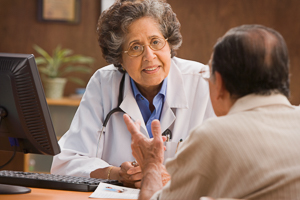 How bad does my vision need to be before I consider surgery?
If your vision is 20/50 (

20/20

is normal) or worse because of a

cataract

, you may benefit from surgery.
If your vision is 20/40 and you have severe glare problems or require good vision for work (for example, you drive for a living), surgery may help you. But eyeglasses may also help. You may want to consider trying glasses before having surgery.
If your vision is 20/40 or worse, have your eyeglass prescription checked. And consider surgery only if eyeglasses fail to help.
Where should I go for surgery?
The most important factor to consider is the skill and experience of your eye surgeon. If you need a recommendation for a surgeon, talk with your family doctor or optometrist.
Try to choose a convenient location. Then you can easily get follow-up eye exams and be seen if you have problems.
Which procedure will be done and why?
Phacoemulsification (small incision surgery) is the most commonly performed type of cataract surgery. The surgeon uses ultrasound to break up the cloudy lens. Other types of surgery are usually reserved for special situations.
Ask your surgeon how experienced he or she is with the procedure. Ask if he or she will use a laser during part of the surgery. Also find out how many procedures the surgeon has done and what the outcomes were.
Phacoemulsification has the highest success rates.
What type of anesthesia is planned?
Cataract surgery in otherwise healthy people can usually be done on an outpatient basis with local anesthesia or topical anesthetic eyedrops. (General anesthesia is only needed for a few people.)
What type of lens replacement is best?
Lenses that are placed inside the eye during surgery (intraocular lenses, or IOLs) are used in many cataract surgeries for adults and children. They help you depend on glasses less. The doctor may wait until a child is 1 to 2 years old before using an IOL.
Ask your doctor about the different types of lenses and what would be best for you. Some types may cost more than others.
Contact lenses placed on the eye's surface are an option. But they may be difficult for older adults and young children to use. Contact lenses are used after cataract surgery in children younger than age 2.
Thick cataract glasses were used in the past. They are not used very often now that IOLs are available.
What should I do if I have cataracts in both eyes?
For adults, the reason to have cataract surgery on the second eye are the same as for the first eye. The reason is that vision loss caused by the cataract is interfering with your daily activities and adversely affecting the quality of your life.
Cataract surgery is usually not done on both eyes at the same time in older adults. Discuss with your doctor how long you need to wait after the first surgery before you can have cataract surgery on your other eye.
Most people will have the second cataract surgery 2 to 4 weeks after the first surgery.
Current as of: May 5, 2019
This information does not replace the advice of a doctor. Healthwise, Incorporated, disclaims any warranty or liability for your use of this information. Your use of this information means that you agree to the Terms of Use. Learn how we develop our content.