Immune system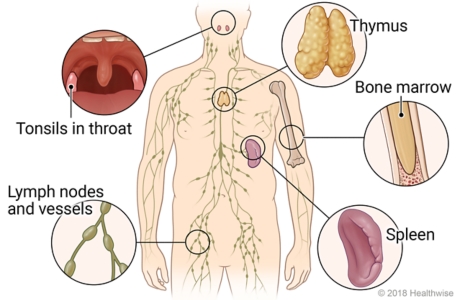 The immune system is the body's natural defense system that helps fight infections. The immune system includes the following.
The tonsils.

These are on either side of the back of the throat. The tonsils help make antibodies.

The thymus gland.

This is found in the upper chest at the bottom of the neck, behind the breastbone. The thymus also helps make antibodies.

Bone marrow.

This is soft tissue that is found mainly inside the long bones of the arms and legs, the vertebrae, and the pelvic bones. The marrow makes white blood cells that destroy bacteria, viruses, and other organisms that cause infection.

The spleen.

This organ is found in the upper left side of the abdomen. It filters the blood by removing old or damaged blood cells and platelets. The spleen helps the immune system by destroying bacteria and other foreign substances.

Lymph nodes and vessels (the lymphatic system).

This system is found throughout the body. It carries fluid, nutrients, and waste material between the body tissues and the bloodstream. The lymph nodes filter lymph fluid as it flows through them. The nodes trap bacteria, viruses, and other foreign substances, which are then destroyed by special white blood cells. These cells are called lymphocytes.
Current as of: June 9, 2019
Author: Healthwise Staff
Medical Review:E. Gregory Thompson MD – Internal Medicine & Adam Husney MD – Family Medicine & Elizabeth T. Russo MD – Internal Medicine
This information does not replace the advice of a doctor. Healthwise, Incorporated, disclaims any warranty or liability for your use of this information. Your use of this information means that you agree to the Terms of Use. Learn how we develop our content.