Quick Tips: Making Fast, Healthy Meals
Get started
Making healthy meals doesn't have to take a lot of time or require complicated recipes. There are many ways you can save time in the kitchen and still eat delicious, healthy food. It's just a matter of having the right foods on hand and learning how to take shortcuts in the kitchen.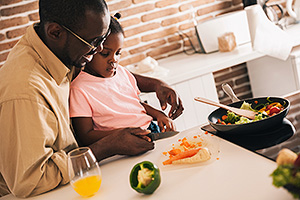 Keep your kitchen stocked with quick and easy meal ingredients
Keeping commonly used foods in your kitchen can help you pull together a quick meal in no time. Having frozen and canned foods and foods with a long shelf life is helpful for those nights when you haven't had time to go to the grocery store. Some basic ingredients to have are:
Frozen chicken breasts and fish fillets.
Frozen vegetables.
Frozen and canned fruits.
Canned beans, such as pinto beans, white beans, and black beans.
Vegetable or chicken broth.
Tomato sauce and pasta sauce.
Whole-grain pasta.
Brown rice.
Onions and garlic.
Let the grocery store do the prep work for you
You can find many foods already cut, washed, and ready to eat, such as:
Packaged, ready-to-eat fresh vegetables, such as baby carrots, salad mixes, and chopped broccoli and cauliflower. These are great for making quick salads, soups, casseroles, and stir-fries.
Packaged, presliced fresh fruits, such as melon or pineapple. You can add these to a container of low-fat yogurt to make an easy fruit salad.
Precut, trimmed meat. Trimmed meat has less fat. And meat that has already been cut into strips or cubes cuts down on your preparation time.
Precooked chicken. Most grocery stores sell roast chicken in the deli section. You can chop or shred the cooked chicken and use it as a filling in burritos, soups, and casseroles.
Try "almost homemade" cooking
You can make "almost homemade" meals by starting with one or two prepared ingredients and then adding your own fresh ingredients. Try the following ideas:
Pizza. A premade pizza crust and a jar of pizza sauce can be the start of a healthier version of pizza. Just add plenty of fresh vegetables and a sprinkle of low-fat mozzarella.
Vegetable soup. Make quick vegetable soup by combining canned chicken broth, a bag of frozen vegetables, and some uncooked rice or pasta.
Asian chicken salad. Combine grilled chicken breast slices with a bag of prewashed lettuce, canned mandarin orange slices, and slivered almonds to make an easy Asian chicken salad. A store-bought ginger-soy vinaigrette can complete the salad.
Fish tacos. Use frozen fish fillets, such as cod, and bagged shredded cabbage to make easy fish tacos. Place the cooked fish and the cabbage in corn tortillas. Top with salsa, lime juice, and low-fat sour cream.
Stir fry. Use precut vegetables, precut and trimmed meat, and canned pineapple chunks to make a quick and flavorful dinner. Serve with steamed rice.
Current as of: November 7, 2018
Author: Healthwise Staff
Medical Review:Adam Husney, MD – Family Medicine & Martin J. Gabica, MD – Family Medicine & Kathleen Romito, MD – Family Medicine & Rhonda O'Brien, MS, RD, CDE – Certified Diabetes Educator
This information does not replace the advice of a doctor. Healthwise, Incorporated, disclaims any warranty or liability for your use of this information. Your use of this information means that you agree to the Terms of Use. Learn how we develop our content.