Removing a Tick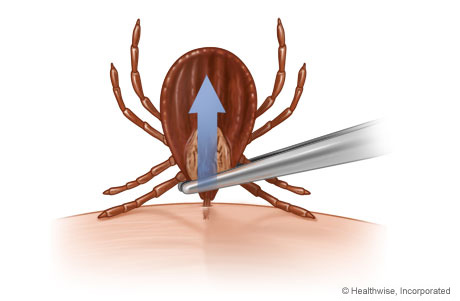 Use fine-tipped tweezers to remove a tick.
Grab the tick as close to its mouth (the part that is stuck in your skin) as you can.
Slowly pull the tick straight out (don't twist or yank) until its mouth is released from your skin.
Avoid pushing on or squeezing the tick's swollen abdomen. Squeezing it can push bacteria into your body.
If the tick breaks and part of it stays under your skin, do not try to remove the rest of it by digging under the skin. This just causes more skin damage. If you leave it alone, it will be expelled naturally in a few weeks.
Use soap and water to wash the area where the tick was attached.
Watch for signs of infection, such as an expanding red rash and flu-like symptoms. Keep in mind that most tick bites do not lead to infection-deer ticks usually have to feed for at least 36 hours before they can pass on bacteria that cause Lyme disease.
What not to do
Do not try to suffocate the tick with petroleum jelly, nail polish, or rubbing alcohol. This may increase your risk of infection.
Do not try to burn the tick with a cigarette or match while the tick is attached to your skin.
Current as of: June 26, 2019