SIEA Flap for Breast Reconstruction
The SIEA (superficial inferior epigastric artery) flap is a type of breast reconstruction surgery. This is one way to replace a breast that was removed by mastectomy. The SIEA flap uses tissue from a woman's own body to make a new breast. This method creates a natural-feeling breast that is soft and warm. To do this…
Current as of: December 19, 2018
Author: Healthwise Staff
Medical Review:Sarah A. Marshall, MD - Family Medicine & Kathleen Romito, MD - Family Medicine & Laura S. Dominici, MD - Surgery, General Surgery, Oncology
This information does not replace the advice of a doctor. Healthwise, Incorporated, disclaims any warranty or liability for your use of this information. Your use of this information means that you agree to the Terms of Use. Learn how we develop our content.
SIEA Flap for Breast Reconstruction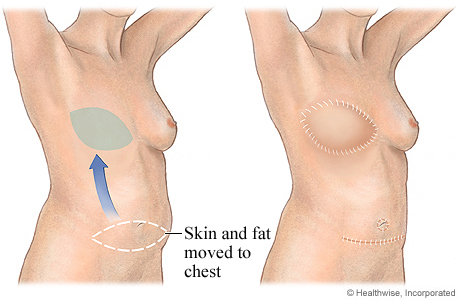 The SIEA (superficial inferior epigastric artery) flap is a type of breast reconstruction surgery. This is one way to replace a breast that was removed by mastectomy. The SIEA flap uses tissue from a woman's own body to make a new breast. This method creates a natural-feeling breast that is soft and warm.
To do this surgery, a surgeon takes fat and skin (but not muscle) from the lower belly area. A blood vessel called the superficial inferior epigastric artery is also removed from the lower belly. The tissue, or flap, is attached to the chest along with the new artery. This artery becomes the main blood supply for the new breast.
In some women, the artery for the SIEA may be too narrow to work well. In that case, the surgeon may need to cut through the muscles of the belly to find another artery. The procedure is then called a DIEP flap, from the name of the artery (deep inferior epigastric perforator).
Both the SIEA and the DIEP result in a flatter belly (a "tummy tuck").
Current as of: December 19, 2018
Author: Healthwise Staff
Medical Review:Sarah A. Marshall, MD - Family Medicine & Kathleen Romito, MD - Family Medicine & Laura S. Dominici, MD - Surgery, General Surgery, Oncology
This information does not replace the advice of a doctor. Healthwise, Incorporated, disclaims any warranty or liability for your use of this information. Your use of this information means that you agree to the Terms of Use. Learn how we develop our content.