Snack Ideas for Preschoolers
Topic Overview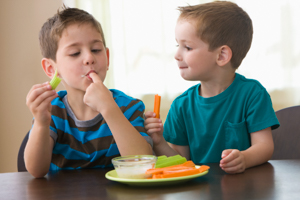 Small children tend to go through phases of picky eating. Try to offer a wide variety of fun, nutritious choices. Don't force your child to eat.
Don't restrict fat in the diet of children younger than age 2. Most children need whole milk between 1 and 2 years of age. But your doctor may recommend 2% milk if your child is overweight or if there is a family history of obesity, high blood pressure, or heart disease. Over the age of 2, serve fat-free or low-fat milk.
To increase the enjoyment and acceptance of nutritious snacks, let your child help prepare them. Here are a few creative snack ideas:
Ants on a log: Celery stick stuffed with peanut butter and topped with raisins.
Pretzel pops: Cubed cheese on a pretzel stick.
Smudgies: Blend 1½ cups milk with ½ cup peanut butter and 1 package of instant pudding—chocolate or vanilla. Beat well, then let stand for 5 minutes. Spread filling ½-inch thick on graham cracker square. Top with another graham cracker square and then freeze until firm—about 3 hours. Makes 12.
English muffin pizza: Halve an English muffin, spread pizza sauce on top, sprinkle with cheese, then bake at

350°F (177°C)

until cheese melts.
Bagel bites: Slice flavored bagels thin, like coins, and place on a baking sheet. Spray them lightly with olive oil and bake at

400°F (204°C)

for 10 minutes.
Fruit milk shake: Blend together ½ cup strawberry or vanilla yogurt, ½ cup frozen strawberries (frozen without added sugar), and 1 teaspoon lemon juice.
Current as of: November 7, 2018
Author: Healthwise Staff
Medical Review:John Pope, MD, MPH – Pediatrics & Kathleen Romito, MD – Family Medicine & Rhonda O'Brien, MS, RD, CDE – Certified Diabetes Educator
This information does not replace the advice of a doctor. Healthwise, Incorporated, disclaims any warranty or liability for your use of this information. Your use of this information means that you agree to the Terms of Use. Learn how we develop our content.