ChARM Health is a MU certified, cloud-based EHR, Practice Management and Medical Billing solution that helps healthcare organizations ranging from large multi-specialty groups to small independent medical offices function efficiently. To that effect, ChARM Health's pricing is simple, unique and helps practices budget and manage the cost of software acquisition.
The UI is designed with simple and readily recognizable icons that bring efficiency to the workflow. Key features include integrated patient intake forms, natural language processing, multi-specialty templates, e-Rx of controlled substances, referral modules, telehealth, inventory management, document management and more- all combined with clinical decision support and analytical tools.
ChARM Health's marketplace ecosystem offers a multitude of mobile apps and add-ons with a large and growing number of integration partners along with readily available ChARM Health APIs including FHIR APIs to meet your growing needs.
ChARM Health comes with a complimentary Patient portal that allows patients to securely message Practices, view visit summaries, hand-outs, treatment plan, Rx refills, pay bills, sign forms, schedule appointments and more. Custom phone, email, or text message reminders help Practices provide timely and quality Patient care. Support is offered via email, chat and phone by trained Support specialists.
Tech Support Availability N/A

Read All Read All Reviews Reviews
Free Resource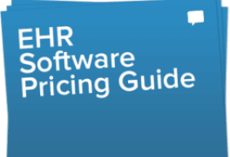 Medical, EMR & EHR software Pricing Guide
Don't let price confusion keep you from selecting the best software!