About DocuTAP
The EMR, also referred to as an EHR (Electronic Health Record), was originally designed with the patient and provider in mind. It goes beyond charting on paper by having patient medical history in one easy-to-use digital software. From treatment to diagnoses, an EMR ensures patient information is both secure and accessible.
Tech Support Availability 24/7

Read All Read All Reviews Reviews
Free Resource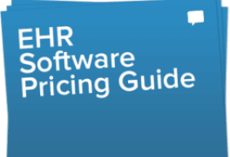 Medical, EMR & EHR software Pricing Guide
Don't let price confusion keep you from selecting the best software!