ClinicalWorks, an electronic health record (EHR) and practice management solution, provides technology for every step of the patient care delivery process. Clinicians access features including patient engagement, Telehealth, customizable reminders, population health data, healthcare analytics, and custom messaging campaigns.
eCW software includes structured data capture, trend analysis, and customizable documentation options for multiple healthcare specialties. Clinicians can access all components of patient records in the Patient Hub.
With eClinicalWorks Version 11, clinicians gain access to Eva, a virtual assistant that can help review patient records including information from the Progress Note tool and data flowsheets. V11 also includes features such as the Healow app, Messenger, a self-service patient portal, online appointment booking, plus more.
eCW's Healow app can track patient-recorded data from home monitoring devices that patients can wear/use and sync it directly with the healthcare provider's EHR system, keeping clinicians connected with real-time patient vital signs, activity, and progress.
Specialities
General Practice
General Practices
About eClinicalWorks
eClinicalWorks V10 is our best version yet. With the help of our loyal customers and through eCWIdeas, we have engineered a revolutionary comprehensive EHR like no other. With V10, we are Building Bridges to Better Care™.
Tech Support Availability N/A
Connection Speeds A broadband connection is recommended
eClinicalWorks User Reviews

Read All Read All Reviews Reviews
Free Resource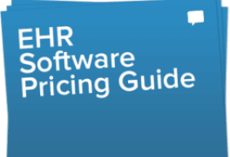 Medical, EMR & EHR software Pricing Guide
Don't let price confusion keep you from selecting the best software!