Sexually Transmitted Infections: Treatment
Topic Overview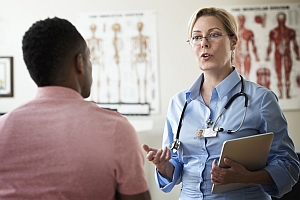 Treatment is available for all sexually transmitted infections (STIs), no matter what the cause, to relieve symptoms, even if a cure is not possible. Some, but not all, STIs are treated with antibiotics.
If you think that you have been exposed to an STI, it is important to be evaluated promptly by a health professional. This will help prevent serious health problems for yourself and reduce the risk of transmitting the infection to others.
Many STI symptoms will go away or change quickly. This does not mean that the STI has gone away. It will be harder for your health professional to diagnose your STI after the symptoms have changed. A delay in being evaluated may lead to a more serious illness.
Current as of: September 11, 2018
Author: Healthwise Staff
Medical Review:William H. Blahd Jr. MD, FACEP – Emergency Medicine & Adam Husney MD – Family Medicine & H. Michael O'Connor MD – Emergency Medicine
This information does not replace the advice of a doctor. Healthwise, Incorporated, disclaims any warranty or liability for your use of this information. Your use of this information means that you agree to the Terms of Use. Learn how we develop our content.