Specialities
General Practice
General Practices
About Elation Health
Chart, e-prescribe, and order lab tests all from the same screen. Cockpit View eliminates back-and-forth linear workflows — letting you click less and do more.
Tech Support Availability 24/7
Elation Health User Reviews



The best clinically oriented EMR available. I've tried several and this is the most thoughtfully laid out one.


Unfortunately, I was not 'allowed' to speak to the data team (those handling the transfer of data from one EMR to another) as they don't 'directly talk to the customers'. I still don't have resolution and have to wait until next week even though I've been trying to connect with their data team for a week. I will update my review as things unfold.


Elation has been an asset to our surgical practice. And the technical support is excellent. We wish everyone in Elation all the best as they tirelessly navigate the future of healthcare.


Great EMR! It has made my life a lot easier! Read my Capterra review!


Elation has been the easiest part of transitioning to my new practice. Its simple to learn and exceedingly practical to work with. Patients love the portal and I love its intuitive operation and reliability. Additionally, the customer service of this company is extraordinary. The staff at Elation is truly dedicated to physicians and they work tirelessly to improve and enhance their product based on our recommendations. I would call Elation a true joy to work with and having worked with many EHR's, this would be the only product even close to earning such a testimonial.
Read All Read All 16 Reviews Reviews
Free Resource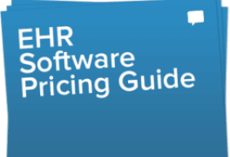 Medical, EMR & EHR software Pricing Guide
Don't let price confusion keep you from selecting the best software!