The Health Information Technology for Economic and Clinical Health (HITECH) Act specifies that physicians can qualify for $44,000 or more in economic stimulus incentive payment for adopting and implementing a certified EHR or EMR. The government allocated $27 billion dollars to help doctors transition from paper medical records to electronic medical records (EMR) systems or electronic health records (EHR) systems and show
meaningful use
of these systems. Physicians will be
assessed penalties
for not adopting an EMR system by 2015.
EMR and EHR incentives are paid per provider.
Each practitioner in your medical practice can qualify for $44,000 in Medicare Incentives or $63,750 in Medicaid Incentives.
Medicare EHR Incentive Payment Schedule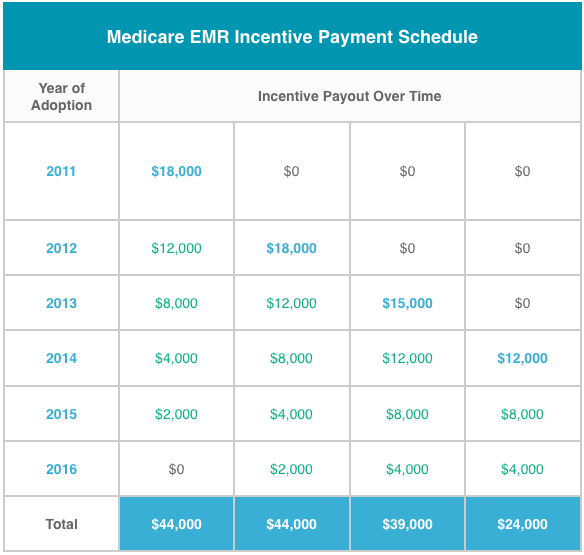 Medicaid EMR Incentive Payment Schedule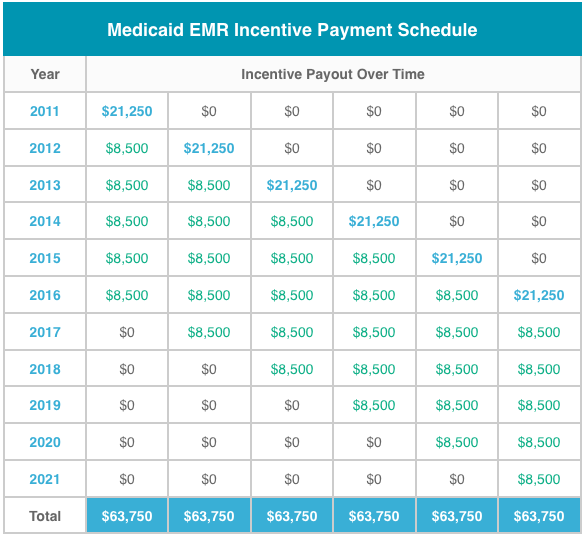 Types of Eligible Health Care Providers
Hospitals
Skilled nursing facilities
Nursing facilities
Home health entities
Long term care facilities
Health care clinics
Community mental health centers
Renal dialysis facilities
Blood centers
Ambulatory surgical centers
Emergency medical service providers
Federally qualified health centers (FQHC)
Group practices
Pharmacists
Laboratories
Physicians
Practitioners
Indian Health Service providers
Rural health clinics
Therapists
Who can qualify?
Doctor of Medicine or Osteopathy
Doctor of Dental Surgery or Dental Medicine
Doctor of Podiatry
Doctor of Optometry
Chiropractor
What are the patient volume requirements necessary to qualify?
In order to qualify for an incentive payment under the Medicaid EHR Incentive Program, eligible providers must meet one of the following criteria:
Have a minimum of 30% of their patient volume derived from Medicaid
Have a minimum of 20% of their patient volume derived from Medicaid and be a pediatrician
Practice predominantly (more than 50% of clinical services) in an FQHC or rural health clinic (RHC) and have a minimum of 30% of their patient volume attributable to needy individuals
Important dates to remember
October 1, 2010 – Reporting year begins for eligible hospitals and CAHs.
January 1, 2011 – Reporting year begins for eligible professionals.
January 3, 2011 – Medicare EMR Incentive Program registration begins.
January 3, 2011 – For Medicaid providers, states may launch their programs if they so choose.
April 2011 – Attestation for the Medicare EMR Incentive Program begins.
May 2011 – EHR Incentive Payments expected to begin.
July 3, 2011 – Last day for eligible hospitals to begin their 90-day reporting period to demonstrate meaningful use for the Medicare EMR Incentive Program.
September 30, 2011 – Last day of the federal fiscal year. Reporting year ends for eligible hospitals and CAHs.
October 1, 2011 – Last day for eligible professionals to begin their 90-day reporting period for calendar year 2011 for the Medicare EMR Incentive Program.
November 30, 2011 – Last day for eligible hospitals and critical access hospitals to register and attest to receive an Incentive Payment for Federal fiscal year (FY) 2011.
December 31, 2011 – Reporting year ends for eligible professionals.
February 29, 2012 – Last day for eligible professionals to register and attest to receive an Incentive Payment for calendar year (CY) 2011.
January 31, 2013 – Payment Year 2012 closed for eligible hospitals
February 28, 2013 – Deadline for eligible professionals who participated in the 2012 EHR Incentive Program to attest to meaningful use to receive Medicare incentive payments.
2014 – Stage 2 Meaningful Use requirements will go into effect. Eligible professionals must have first completed Meaningful Use Stage 1 before attesting to Stage 2
July 1, 2014 – Eligible hospitals must begin the three-month reporting period for Stage 1 or Stage 2, depending on which stage they are attesting to. This reporting period allows providers time to implement an EMR/EHR system.
July 1, 2014 – Deadline for eligible hospitals to attest in order to avoid 2015 Medicare Payment Adjustments
October 1, 2014 – Eligible providers must begin the three-month reporting period for Stage 1 or Stage 2, depending on which stage they are attesting to. This reporting period allows providers time to implement an EMR/EHR system.
October 1, 2014 – Deadline for eligible professionals to attest in order to avoid 2015 Medicare Payment Adjustments
Meaningful Use Objectives Timeline (for eligible professionals and hospitals):
Stage 1: 2011-2018
Stage 2: 2014-2020
Stage 3: 2016-2021