Acupuncture
Topic Overview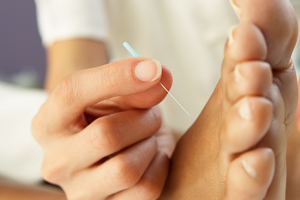 What is acupuncture?
Acupuncture is a form of traditional Chinese medicine that has been practiced for centuries. It's based on the theory that energy, called chi (say "chee"), flows through and around your body along pathways called meridians.
Acupuncturists believe that illness occurs when something blocks or unbalances your chi. Acupuncture is a way to unblock or influence chi and help it flow back into balance.
Acupuncture is done by putting very thin needles into your skin at certain points on your body. This is done to influence the energy flow. Sometimes heat, pressure, or mild electrical current is used along with needles.
What happens during acupuncture?
Your acupuncture provider will give you an exam and ask questions about your pain and how well you are functioning. He or she will also ask about your overall health.
Then your provider will look for the places (called points) on your body to access the chi that is blocked or not flowing right. Each of the points relates to certain health problems or body functions.
Your provider will look for landmarks on your body—using certain muscles or bones, for example—to find the points so that he or she can place the needles.
After the provider finds the points, he or she will quickly tap very thin needles into your skin. He or she will probably place several needles. Some may be placed deeper than others, depending on what the provider believes is needed to restore the flow of chi.
Every provider is different, but in most cases treatment lasts for 15 minutes to an hour. You may have several visits to complete your treatment. Some people have ongoing visits.
What does it feel like?
You may feel slight pressure when a needle goes in. Most people find that it doesn't hurt. The area may tingle, feel numb, itch, or be a little sore. Providers believe that this is a sign that the energy flow, or chi, has been accessed.
After the needle is placed, your provider may roll the needle slightly back and forth. Or he or she may use heat or electrical current on the needle.
What is acupuncture used for?
Some people use acupuncture to relieve pain, such as low back pain, or to manage chronic pain from osteoarthritis, headaches, or neck problems. There is some evidence that acupuncture may help to treat pain. But in most cases the studies have been too small to clearly show a benefit.
Is acupuncture safe?
In general, acupuncture is safe when done by a certified provider. A state license ensures that the provider has a certain level of training and follows certain guidelines. But there are still a few states where acupuncture is not licensed.
In very rare cases, problems may occur after acupuncture. You could get an infection, especially if the needles aren't sterile. But licensed providers throw away their needles after one use. Make sure your provider uses a new pack of sterile needles every time.
Talk with your doctor if you have other questions about the safety of acupuncture. Always tell your doctor if you are using a treatment like acupuncture.
Choosing an acupuncturist
Check to see if your state licenses providers.
Many providers also may have a certificate from the National Certification Commission for Acupuncture and Oriental Medicine. This is a nonprofit group that promotes standards in acupuncture and Oriental medicine.
Ask your doctor and friends for recommendations.
You also may want to pick a provider who:
Will work on a treatment plan with you, your doctor, and other health professionals.
Clearly explains what he or she is doing during treatment.
Explains how often you may need treatment and how much it will cost.
References
Other Works Consulted

Acupuncture (2006). Medical Letter on Drugs and Therapeutics, 48(1234): 38–39.
Cui CL, et al. (2008). Acupuncture for the treatment of drug addiction. Neurochemical Research, 33(10): 2013–2022.
Ergil KV (2011). Traditional medicines of China. In M Micozzi, ed., Fundamentals of Complementary and Alternative Medicine, 4th ed., pp. 373–402. St. Louis: Saunders.
Freeman L (2009). Acupuncture. In Mosby's Complementary and Alternative Medicine: A Research-Based Approach, 3rd ed., pp. 310–346. St. Louis, MO: Mosby.
Lu L, et al. (2009). Traditional medicine in the treatment of drug addiction. American Journal of Drug and Alcohol Abuse, 35(1): 1–11.
National Center for Complementary and Alternative Medicine (2011). Backgrounder. Acupuncture: An introduction. (NCCAM Publication No. D404). Available online: http://nccam.nih.gov/health/acupuncture/introduction.htm.
Nolting MH (2013). Acupuncture. In JE Pizzorno, MT Murray, eds., Textbook of Natural Medicine, 4th ed., pp. 242–247. St. Louis: Mosby
Sierpina VS, Frenkel MA (2005). Acupuncture: A clinical review. Southern Medical Journal, 98(3): 331–377.
Yang CH, et al. (2008). A possible mechanism underlying the effectiveness of acupuncture in the treatment of drug addiction. Evidence-Based Complementary and Alternative Medicine, 5(3): 257–266.
Current as of: April 9, 2019
Author: Healthwise Staff
Medical Review:Adam Husney MD – Family Medicine & E. Gregory Thompson MD – Internal Medicine & Kathleen M. Fairfield MD, MPH, DrPH – Internal Medicine
This information does not replace the advice of a doctor. Healthwise, Incorporated, disclaims any warranty or liability for your use of this information. Your use of this information means that you agree to the Terms of Use. Learn how we develop our content.