Bifocal Contact Lenses
Topic Overview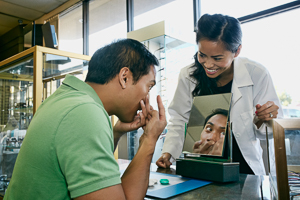 Bifocal contact lenses have been developed for people who have both nearsightedness and presbyopia. Bifocal lenses provide correction for both near and distance vision on each lens. A number of designs are available in hard and soft lenses.
There are two main types of bifocal contact lenses:
Segmented (also called alternating or translating). These resemble standard bifocal eyeglasses, in which there are two distinct areas, or segments, of the lens. You have to look through these different parts of the lens for distance vision (upper) and near vision (lower), and the lenses can move, making vision inconsistent. In some cases, the lenses may be weighted to keep them properly oriented on your eye.
Concentric or simultaneous. These lenses provide correction for near or distance vision in the center of the lens, and correction for the other type of vision in a ring surrounding the center. There is usually a sharp boundary between the two areas. A special type of concentric lens, called aspheric, provides a gradual transition between the areas for near and distance vision. This can provide a way to correct for vision at intermediate distances. Because concentric or simultaneous contact lens designs provide correction for both near and distance vision close to the center of the lens, both near and far objects can be in focus at the same time. Your brain must learn to select the visual information it needs to form an image of either near or distant objects, so simultaneous bifocal contact lenses may require some adjustment.
Some people are not satisfied with bifocal contact lenses. They may:
Have a hard time adjusting to the different areas for near and distance vision.
Be dissatisfied with the quality of the vision correction provided by the lenses.
Have problems with glare at night.
Some vision problems cannot be corrected very well by current designs for bifocal lenses.
Also, because they are more complex, bifocal contact lenses require a longer fitting process and are usually more expensive than single-vision contacts.
Current as of: May 5, 2019
This information does not replace the advice of a doctor. Healthwise, Incorporated, disclaims any warranty or liability for your use of this information. Your use of this information means that you agree to the Terms of Use. Learn how we develop our content.