Cardiac Rehabilitation: Emotional Health Benefits
Topic Overview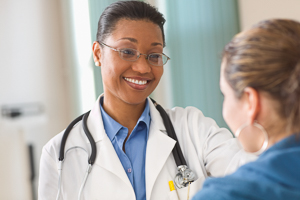 Recovering from a heart problem means not only getting back your physical strength but also getting back your emotional and mental well-being. Having a positive outlook during your recovery and rehabilitation is necessary to help you recover physically, emotionally, and mentally. Remember that you are going to start feeling better very soon. You are working to get back to your normal life.
Will you feel depressed?
After a diagnosis of a heart problem or after having a procedure or surgery, some people experience stress, depression, helplessness, or social isolation. You should be aware that these feelings are common for people who have heart problems. You, or your family, might struggle with the idea of having a heart problem and with all the necessary changes you must make in your lifestyle to prevent future cardiac events.
Depression causes you to feel sad or hopeless much of the time. It's different from normal feelings of sadness, grief, or low energy. Depression is a medical problem that needs treatment. If you think you may be depressed, see your doctor for diagnosis and treatment right away. Untreated depression may get worse. And your heart disease may get worse too.
The fatigue and pain you might be experiencing may make you depressed. You may:
Have mood swings.
Cry easily.
Feel afraid or anxious.
Get frustrated.
Be irritable.
Not be able to concentrate.
Have "good days" and "bad days."
Lose appetite.
Sleep too much or not enough.
What can you do to feel better mentally and avoid depression?
If you think you might be depressed, talk to your doctor. The sooner you know if you are depressed, the sooner you can get treatment. Treating depression is good for your health.
It can be important to keep your family and friends around you during your recovery. They can go on walks with you or just sit and chat. You should continue to be affectionate with your family and friends. Affectionate gestures can improve your mood and make you feel less lonely.
Both you and your loved ones should identify negative feelings and actively find ways to deal with them. Successfully dealing with negative feelings has been shown to have a helpful effect on your outlook, future risks, and the changes you need to make in your lifestyle.
A comprehensive cardiac rehab program will most likely include some form of psychological assessment to help determine your current psychological status and identify areas that need to be addressed. A program can offer support and education to help reduce the normal stresses associated with a cardiac event and hospitalization.
Simple techniques like deep breathing can help you relax and gain control of your situation. In some cases, medicines, psychotherapy, or spiritual counseling may help you deal with your mental state.
Credits
Current as ofApril 9, 2019
Author: Healthwise Staff
Medical Review: Rakesh K. Pai, MD – Cardiology, Electrophysiology
Martin J. Gabica, MD – Family Medicine
E. Gregory Thompson, MD – Internal Medicine
Kathleen Romito, MD – Family Medicine
Adam Husney, MD – Family Medicine
Richard D. Zorowitz, MD – Physical Medicine and Rehabilitation
Current as of: April 9, 2019
Author: Healthwise Staff
Medical Review:Rakesh K. Pai, MD – Cardiology, Electrophysiology & Martin J. Gabica, MD – Family Medicine & E. Gregory Thompson, MD – Internal Medicine & Kathleen Romito, MD – Family Medicine & Adam Husney, MD – Family Medicine & Richard D. Zorowitz, MD – Physical Medicine and Rehabilitation
This information does not replace the advice of a doctor. Healthwise, Incorporated, disclaims any warranty or liability for your use of this information. Your use of this information means that you agree to the Terms of Use. Learn how we develop our content.