Therabill is a HIPAA- and ARRA-compliant cloud-based practice management solution for mental health and speech therapists. With Therabill, providers can submit billing claims, manage schedules, enter treatment notes and maintain patient information. Users can access the system anywhere, anytime, from any web-enabled device.
Available to both single and group therapy practices, Therabill is suitable for speech-language pathologists, mental and behavioral health specialists, developmental therapists, social workers, psychologists and nutritionists.
With Therabill, providers can document sessions using customizable templates. Additional features include scheduling with drag-and-drop functionality and automatic appointment reminders, patient invoicing, built-in reporting and unlimited electronic claim submissions to thousands of insurance companies and government payers.
Specialities
General Practice
General Practices
About Therabill
WebPT + Therabill now offers physical, occupational, and speech therapists the best practice management solution in the industry.
Tech Support Availability N/A

Read All Read All Reviews Reviews
Free Resource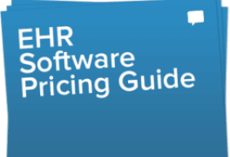 Medical, EMR & EHR software Pricing Guide
Don't let price confusion keep you from selecting the best software!